Create the next generation of webcomics
Create engaging webcomics and publish them online. It's fast, easy and affordable. Here's how.
Create webcomics
1. Click to upload WebP, PNG, JPEG or GIF webcomic panels.
2. Drag and drop the webcomic panels to create a sequence.
3. Click to add a bubble.
4. Drag bubbles to position them.
5. Customize bubble, bubble tail and bubble text.
6. Click to upload an MP3 or OGG music file.
7. Set the music file as the background music.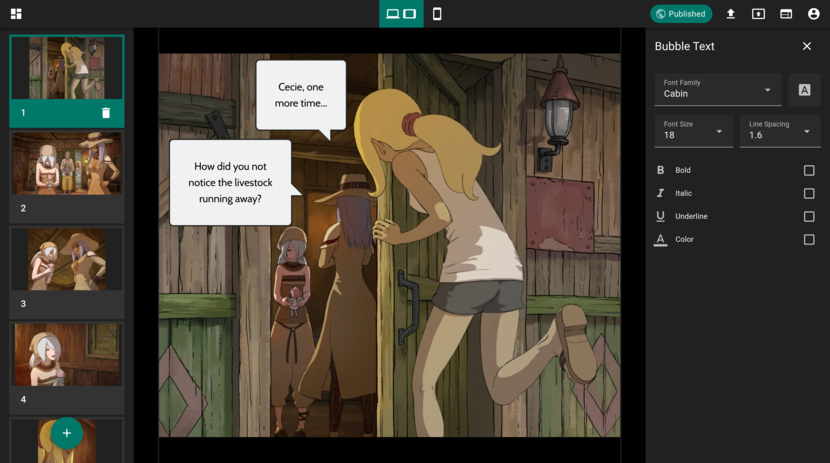 Organize webcomics
1. Click to access the dashboard from the editor.
2. Click to create a webcomic.
3. Click to rename a webcomic.
4. Click to delete a webcomic.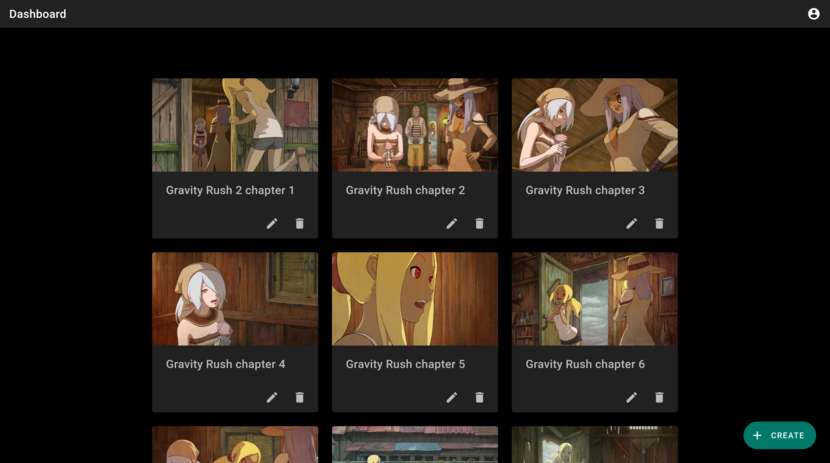 Publish webcomics
1. From the editor, publish/host your webcomic online.
2. Open your website by typing its URL in the address bar.
3. Read with a mouse, keyboard, touch gesture or gamepad.
4. Watch panels and bubbles load quickly and animate beautifully.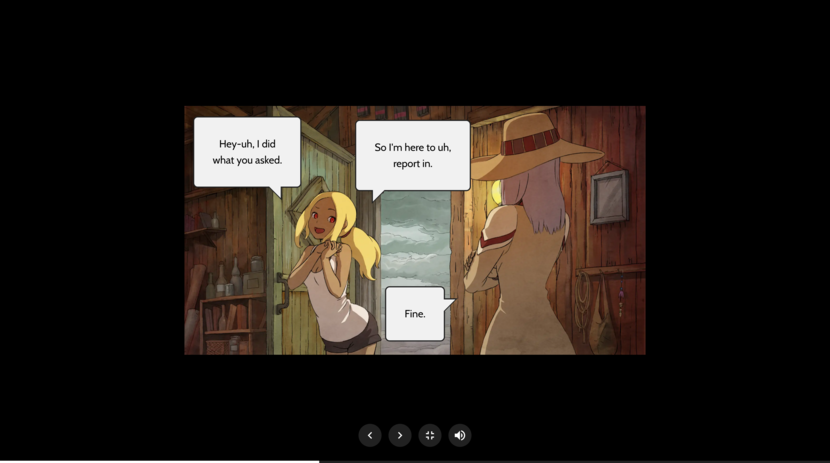 Upcoming features
1. Animate panels, bubbles, backgrounds and characters.
2. Add sound effects.
3. Sell your webcomic and keep all the profits.
4. Enable readers to leave comments.
5. Adapt your webcomic to any screen size.
6. Enable readers to watch your webcomic like a movie.
7. Turn your webcomics into Progressive Web Apps.
8. Use a custom domain name.
9. Find who reads your webcomic and how they read it.
10. Add "About", "Archive", "Blog" and "Cast" pages.
11. Customize the user interface of your website.
12. Schedule posting a new chapter or page.
13. Notify readers when a new chapter or page is out.
14. Export and host your webcomic outside webcomic.app.
15. Export your webcomic as video.
Question?
Ask any question you have about webcomic.app here.
Your question will be sent as an email to chafic@webcomic.app. You'll receive an answer to your email inbox within 24 hours.